INDEX
Alumni A-E
Alumni F-J
Alumni K-O
Alumni P-T
Alumni U-Z

Index by Name

Registration Form
Pay By PayPal

Where are they now?
Wondering how your old friends have changed over the years? Visit Then and Now for a peek.
Photo Albums


Yearbooks
Thanks to Mitch Kief(1973) and Jim Cochran, Kathy McConaghie, and Toni McConaghie(1971)
1971 Yearbook(Pdf)
1973 Year book(html)
1973 Yearbook(pdf)
And anyone else who wants to get their name up here, all you have to do is scan an entire yearbook(and I'll even host it on the site!)


The April 17-19
Wilmington, NC Reunion
More Wilmington photos.......
Matt Barrett's &
Jill Best's

More Photos
Maria Vlahopoulos


Sophia Zafer

April 1999
DC Reunion
Rick Weldon uncovers long lost
AYC pictures...
copyright©2009 ACSGreece
By Andrew Padilla
Albuquerque Journal Staff Writer

Workers with the U.S. Department of Agriculture are "harassing" ducks in Rio Rancho in an attempt to make them leave.

Officials say almost 2,000 migrating ducks have been wreaking havoc on the city's golf course for the last few weeks.

Gary Littauer of the USDA said in addition to the 40 domestic ducks that live in golf course ponds, another 500 coots, 1,000 American widgeons and about 300-500 mallards have taken up residence there.

"What they like is the nice wet grass, and they take a beakful," said Dick Campbell, manager of the Rio Rancho Golf and Country Club. "It passes through them relatively quickly and they leave their droppings all over the greens."

Campbell called in the USDA earlier this week and the agency has been using pyrotechnic techniques to solve the problem.

"The (pyrotechnics are) just fireworks devices that are launched into the air from a handn-=held launcher, " Littauer said.

The devices make a screeching noise and a loud bang.

"The strategy there is to harass the birds to the point that they don't want to live there anymore," Littauer said.
"With the migratory birds, it tends to be effective."

If it doesn't work, the agency plans to tranquilize the ducks and move them to nearby wildlife refuges.

"If we decide to do that, that will not happen until after the waterfowl hunting season- about Jan. 18," Littauer said.
---
Nick's Reply

Keep the Ducks, Send Golfers South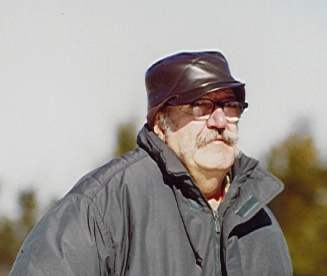 "Hey Ducks, Take a Flight" reports on the "harassing" of ducks at the Rio Rancho gold course "in order to make them leave."

However, it is important to point out that ducks are far cleverer, more humorous, friendly and interesting than golfers. Recent scientific research , endorsed by both evolutionists and creationists, also proves beyond any reasonable doubt, that ducks are prettier and more charming as well.

So how about keeping the ducks in the neighborhood and send the golfers southward instead? Migratory golfers have much to offer the world, and for certain they would be a sight to behold

Nicholas Econopouly
Rio Rancho
back to Nick's Page
---